Special items

EYEBOLTS | WITH CONTINUOUS RING
Area of application: Suspension of heavy loads, use in turnbuckles acc. to DIN 1480 or in anchors
Heavy type: Loads see last column
All dimensions are available at short notice
Also available with left-hand thread and in stainless Steel A2/A4
On request: Threads from M16-M33, strength class 8.8, BSW-thread
Made in Europe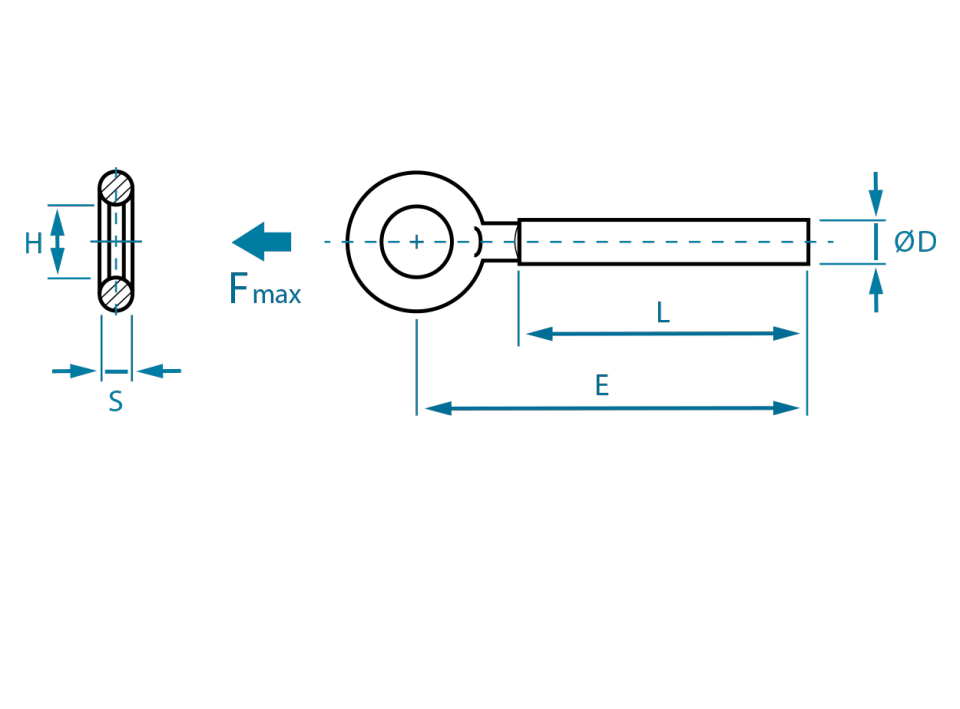 ø D
L
(mm)
E
(mm)
H
(mm)
*F
Max
(N)
Min
Max
M 5
40
52,7
8,05
8,55
1.750
1.200
M 5
48
57,7
8,05
8,55
1.500
1.200
M 6
40
54,6
9,75
10,25
1.100
1.850
M 6
50
64,6
9,75
10,25
900
1.850
M 6
55
69,6
9,75
10,25
750
1.850
M 8
52
67,4
10,75
11,25
500
3.600
M 8
60
75,4
11,55
12,05
500
3.600
M 10
60
80,6
14,25
14,75
275
5.400
M 10
73
93,6
14,25
14,75
225
5.400
M 10
93
113,6
14,25
14,75
175
5.400
M 12
66
89,5
16,75
17,25
150
8.100
M 12
72
95,5
16,75
17,25
150
8.100
M 12
90
113,5
16,75
17,25
125
8.100
M 14
85
109,4
17,75
18,25
100
11.400
M 16
95
122,1
22,70
23,30
50
15.400
MATERIAL:
Steel, zinc-plated A2K acc. to DIN EN ISO 4042, stainless steel A2 or A4
TOLERANCE:
Metric thread 6h acc. to DIN EN ISO 965-1, Length "L": +2x pitches
LOAD VALUES "Fmax":
Nominal static load in direction of the arrow, safety factor 3.
All of the dimensions stated above are approximate and may deviate both upwards and downwards.